Janice Lawrence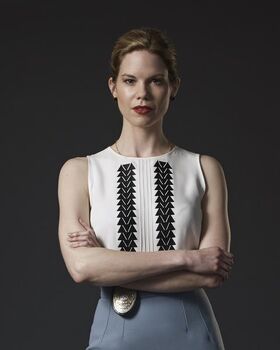 ---
---
---
---
---
---
---
| | |
| --- | --- |
| Origin | Californian (American) |
---
---
---
---
Images (0)
Janice Lawrence is a main character in the series Stalker. She is portrayed by Mariana Klaveno.
Description
[
]
Janice Lawrence is woman born in Los Angeles who is of age 31. She is of caring towards her colleagues and supportive of their decisions.
Physical Appearance
[
]
She usually wears a jacket over a thin top and navy pants along with black leather boots or heels. She either has her hair out of pinned along with a police belt around her waist and small blue earrings. 
Character History
[
]
TBA
What Ever Happened to Baby James
Janice is first seen at the office, as she accepts Jack's coffee, although she later mentions she prefers chi tea. She shows him around, telling him there are 6 detectives and a bunch of various people. She says everyone has their specialty, and that hers is sociology and psychology. She tells Jack that Ben resents him because Jack gets in the field and Ben doesn't. Moments later, Janice goes with Beth and Jack to the McCoy house where she interviews the neighbours, including Ron and Judith.
She then spends 3 hours at Hannah's high school, looking for clues. She is later seen figuring out the pieces of the puzzle regarding Mr. Barnes along with Ben and Jack. They conclude he is not their guy, because he doesn't like confrontations. Janice notes that Jack is roleplaying. In the end of the episode she asks Jack if he wants to grab drinks, strickly platonic. When Jack declines because he doesn't want to become 'that guy' Janice says it only makes him more interesting, to Ben.
Appearances (20/20)
[
]
Relationships
[
]
Jack Larsen
Trivia
[
]
Quotes
[
]
Gallery
[
]
To view the Janice Lawrence gallery, click here.
[

]
Template:Characters